Code of Princess fait le point en vidéo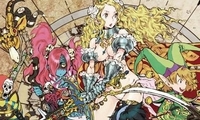 Après avoir affiché son packaging il y a quelques jours, Code of Princess s'illustre à présent au travers d'un trailer faisant le point sur toutes les spécificités du titre.
Disponible dès le 9 octobre prochain aux USA et attendu dans le courant de la fin d'année en Europe, Code of Princess nous permettra de replonger dans notre enfance grâce à son coté beat'em all 2D très old school faisant directement penser au cultissime Guardian Heroes. Sortie prévue exclusivement sur Nintendo 3DS.