Code of Princess : Trailer et Coop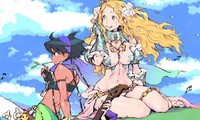 Ce n'est plus qu'une question de jours avant la sortie de Code of Princess, et pour patienter, deux nouvelles vidéos ont été mises en ligne.
Afin de faire patienter ses fans, le studio Agashima Entertainment vient de dévoiler deux toutes nouvelles vidéos : une première illustrant le mode coopération jouable jusqu'à quatre, et un trailer qui revient sur les nombreux personnages.
Code of Princess est attendu le 19 avril au Japon, et rien pour le moment concernant l'Europe.