Eiji Aonuma : Un remake de The Legend of Zelda Majora's Mask pourrait voir le jour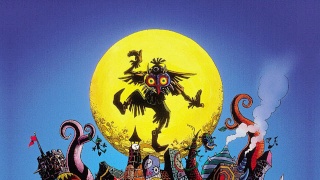 Depuis l'annonce du remake de
The Legend of Zelda : Ocarina of Time
lors de l'
E3 2010
, plus d'un joueur s'était demandé si
The Legend of Zelda : Majora's Mask
, opus également sortit sur
Nintendo 64
, bénéficierait lui aussi d'un portage en 3D, mais l'heure n'était pas vraiment à ce genre de questions.
Un plus d'un mois après la sortie sur 3DS de The Legend of Zelda : Ocarina of Time 3D, les journalistes du magazine Nintendo Power ont franchit le pas, et ont profité d'un entretien avec Eiji Aonuma pour lui poser ladite question :
"Nintendo Power : Après avoir joué à Zelda Ocarina Of Time 3D, la prochaine question qui nous vient à l'esprit est : Aurons-nous prochainement un remake de Majora's Mask ?

Eiji Aonuma : Vous voulez jouez à un tel remake ?

Nintendo Power : Et bien oui !

Eiji Aonuma : Cela fait maintenant 13 ans que Zelda Ocarina Of Time est sorti sur Nintendo 64, et l'une des grandes choses qui a rendu ce remake possible est que les gens qui disaient vouloir ce jeu rependaient beaucoup d'émotions. Nous avons dit que nous pouvons le faire en 3D donc nous l'avons fait. Je pense que si il y a autant d'émotions ainsi qu'une demande forte de la part des joueurs, un remake 3D de Zelda : Majora's Mask ne serait pas une impossibilité absolue."
Le retour de Majora's Mask est donc fort probable. Une nouvelle qui ravira sans aucun doute les amoureux de cet opus qui, 11 ans plus tard, reste toujours dans le coeur de nombreux fans pour son atmosphère sombre et son coté angoissant.