Eureka Seven AO aura son Hybrid Pack !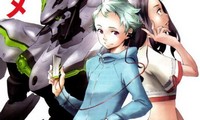 Comme on dit, jamais deux sans trois ! Et bien oui, Namco Bandai vient de dévoiler son troisième Hybrid Pack.
Après
Lagrange : The Flower of Rin-ne
annoncé plus tôt ce matin, le prochain pack hybride distribué par
Namco Bandai
sera donc dédié à
Eureka Seven AO
. Un anime de mecha qui débutera dans le courant du mois, et qui fera office de sequel à
Eureka Seven
, diffusée en 2005.
Comme pour les autres packs de la gamme, le coffret contiendra à la fois un jeu qui sera adapté de l'anime, mais aussi un film ou les épisodes de la série. Rien n'a encore été communiqué à ce sujet.
Synopsis :
Le jeune Renton, vit dans l'ombre de son père célèbre inventeur qui s'est sacrifié pour sauver le monde lors du Grand Cataclysme. Il est élevé par son grand-père et s'intéresse vaguement à la mécanique mais sans vraiment y trouver sa voie. Ce qui le passionne plus que tout, c'est le "riff", le surf aérien sur un courant de particules, en dehors de cela, il s'ennuie à mourir.