Fist of The North Star 2 s'offre un trailer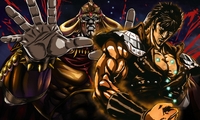 Malgré un premier essai assez mitigé, Hokuto no Ken nous revient dans un second épisode qui sent bon la castagne et l'hémoglobine.
Annoncé lors de l'E3 dernier, Fist of The North Star : Ken's Rage 2 s'était depuis lors montré très discret… jusqu'à aujourd'hui. Tecmo Koei vient en effet de mettre en ligne une bande-annonce assez conséquente mettant en avant de nombreuses phases de gameplay. Ce trailer est également l'occasion d'officialiser la présence d'une poignée de protagonistes dont Shin, Rei, Mamiya, et encore quelques-autres. Ken's Rage 2 sera disponible sur l'archipel nipponne dans le courant du mois de février.