Ghost in the Shell Arise sous la forme d'un anime et un manga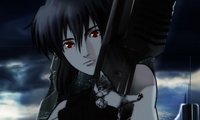 Il y a quelques semaines le Young Magazine nous apprenait le retour en 2013 de la série Ghost in the Shell, et voici qu'aujourd'hui tout se précise !
Ghost in the Shell Arise mettra en avant la jeunesse de Motoko Kusanagi, et prendra le forme de quatre OAV de cinquante minutes qui seront diffusés au cinéma. Ghost in the Shell Arise Border 1 : Ghost Pain sera le premier épisode de cette série, il sera diffusé du 22 juin au 6 juillet dans les salles obscures de l'archipel, puis ensuite une sortie en DVD et Blu-ray aura lieu le 26 juillet. En parallèle, un manga ayant pour titre Ghost in the Shell Arise – Nemuranai Me no Otoko – Sleepless Eye débutera dans le Gekkan Young Magazine du 13 mars, et fera office d'adaptation de cet anime. Takumi Ôyama sera au dessin, et Junichi Fujisaki s'occupera du scénario.