Grasshopper annonce Killer is Dead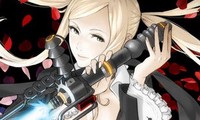 Le papa de Killer 7, No More Heroes et dernièrement Shadow of the Damned annonce un nouveau jeu !
Il n'y a pas à dire, Grasshopper est décidément en forme en ce moment ! Alors que Lolipop Chainsaw est toujours en cours de développement, un projet développé en partenariat avec Kadokawa Games vient d'être officialisé.
Intitulé
Killer is Dead
, le titre sera fortement inspiré de
Killer 7
et de
No More Heroes
, et leurs empruntera quelques éléments de gameplay. On sait également que le héros sera entouré de jolies filles à la manière d'un 007. Mais
Suda51
rassure en déclarant qu'il ne s'agira pas d'un simple melting-pot. De l'inédit, nous en aurons ! Sortie prévue sur
PlayStation 3
et
Xbox 360
dans le courant de l'année prochaine.
MAJ : les deux premiers artworks viennent de tomber :