Highschool of the Dead reprend au Japon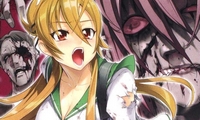 Les amateurs de zombies et de petites culottes seront ravis d'apprendre que Highschool of the Dead reprendra au Japon dès le printemps prochain !
C'est l'éditeur Kadokawa qui a révélé cette information. Le manga de Daisuke Satou et Shoji Sato était en pause depuis mars dernier, mais reprendra son cours dès le printemps. Probablement vers la fin mars, voir début avril. Sept tomes reliés sont sorti au Japon, et tous sont disponibles aux éditions Pika. Un anime a également vu le jour en 2010, et compte un total de douze épisodes.
Synopsis : Le monde est contaminé par une maladie mortelle qui transforme les
humains en zombies. Au Japon, de nombreux étudiants du lycée Fujimi,
ainsi que l'infirmière scolaire, se sont réunis afin de tout faire pour
survivre à cette apocalypse. L'histoire suit Takashi Komuro, l'un des
étudiants à avoir survécu à la première attaque.