Imageepoch dévoile le premier trailer de Time and Eternity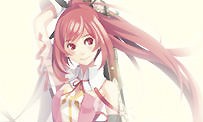 Dévoilé la semaine passée au travers d'une poignée d'images semblant être tout droit sortit d'un anime, Time and Eternity s'illustre aujourd'hui via cette première bande-annonce.
Alors que les images diffusées il y a quelques jours laissaient assez sceptique au vu de cette patte-graphique vraiment très, voir trop proche du rendu d'un anime, au point de mettre de grosses claques à un certain Ninokuni ou autres Rayman Origins, et bien le studio Imageepoch confirme aujourd'hui via ce trailer leur prétention à pouvoir proposer un nouveau sous-type de jeu de rôle : le tout premier Animation-RPG !
Actuellement à 20% de son développement, Namco-Bandai nous apprend que Time and Eternity se rapprochera d'un A-RPG, et ne proposera donc pas un système de combats au tour par tour comme pouvaient laisser penser les premières images, ensuite que des DLC sont déjà au programme, et enfin qu'on peut tabler sur une sortie avant l'hiver prochain. Exclusivement sur Playstation 3, et pas en dehors du Japon.