Konami sur un nouveau Metal Gear Online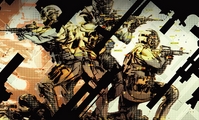 Voici une nouvelle qui devrait faire plaisir aux joueurs qui ne savent plus quoi faire depuis que Metal Gear Online a fermé ses portes.
Ayant fait sa première apparition dans Metal Gear Solid 3 : Subsistence avant de disparaitre puis de renaitre de ses cendres grâce à Metal Gear Solid 4 : Guns of the Patriots, Metal Gear Online a dû poser les armes en juin dernier à cause des serveurs qui n'étaient plus suffisamment fréquentés. Mais Hideo Kojima rassure les fans, un nouveau Metal Gear Online est actuellement en préparation ! En effet, Kojima a déclaré que le studio ouvert récemment par Konami à Los Angeles a pour mission de travailler sur un nouvel épisode de cette saga axée sur le multijoueurs. Mais est-ce que ce nouveau Metal Gear Online sera un jeu à part, ou bien sera-t-il rattaché à Metal Gear Solid : Ground Zeroes par exemple? Aucuns détails n'ont été communiqués pour le moment.