Lagrange : The Flower of Rin-ne sur PS3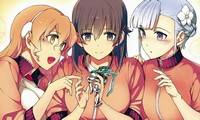 Les Hybrid Packs semblent avoir le vent en poupe chez Namco Bandai, puisque Lagrange : The Flower of Rin-ne aura droit lui aussi à ce combos jeu + film.
Les fans de Rinne no Lagrange seront sans doute aux anges suite à cette annonce, car nous venons d'apprendre que la série aura droit d'ici peu à non seulement la sortie du film en bluray, mais également à une adaptation en jeu vidéo. Et tout cela, dans le même coffret ! Un concept que Namco Bandai semble bien décidé à exploiter.
C'est malheureusement tout ce qu'on sait pour le moment. Les premières images ne devraient pas tarder à arriver, mais pour patienter voici le générique de l'anime.