Le manga Triage X de Sato Shouji débarque en France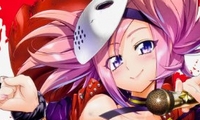 Voici que les éditions Pika nous apprennent l'arrivée prochaine de Triage X parmi leur catalogue.
Connu principalement en France grâce au torride High School of the Dead, il faut savoir qu'il ne s'agit pas du seul manga de Sato Shouji. En effet, notre mangaka amateur de petites jupettes est également l'auteur de Triage X, dont le premier tome sortira le 29 mai chez Pika. Ce shonen joue lui aussi la carte de l'érotisme avec pour héros une bande de lycéens. Actuellement, un total de six tomes reliés ont vu le jour au Japon.
Synopsis : A première vue, Arashi Mikami est
un simple étudiant de 17 ans. Mais en fait il fait partie d'une
organisation connue sous le nom de "Black Label". Cette organisation a
pour but d'éliminer les criminels assoiffés de pouvoir et d'argent et
contre qui la loi ne peut rien. Mais ce travail n'est pas de tout repos,
et quand on se frotte aux criminels, il y a forcement des
conséquences…