Le prochain Tales of dévoilé lors du TGS 2011 !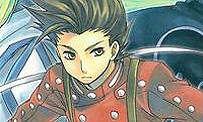 En ce début de semaine,
Namco Bandai
fait une fois de plus plaisir aux amateurs de teasings avec l'ouverture d'un
nouveau site
consacré à l'annonce d'un nouveau
Tales of
dans moins de deux jours. Et oui, encore un nouvel épisode alors que
Tales of Xillia
vient à peine de débarquer au Japon sur
Playstation 3
, mais on ne va pas s'en plaindre !
Pour ce qui est des indices, tout ce dont nous avons droit c'est ce "New Tales of", ainsi qu'un mystérieux compte à rebours tombant pile-poil lors de l'ouverture du Tokyo Game Show ! Ainsi, impossible de savoir sur quelle(s) machine(s) sera porté cet épisode. On peut cependant supposer qu'il s'agira de la Playstation Vita, étant donné que Makoto Yoshizumi avait avoué récemment être très excité à l'idée de travailler sur la nouvelle portable de Sony.
Quoi qu'il en soit, nous aurons la réponse d'ici quelques jours.