A Letter to Momo en France en 2013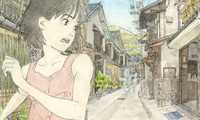 Le film d'animation A Letter to Momo vient de se trouver un éditeur, et débarquera l'année prochaine.
Après avoir fait son petit effet lors du Carrefour de l'Animation en décembre dernier, et en attendant que le voir passer devant le jury du prochain festival d'Annecy, nous apprenons à présent que A Letter to Momo sortira dans nos vertes contrée. Mais malheureusement pas avant 2013…
Derrière ce long-métrage se cache le studio Production I.G. et Okiura Hiroyuki, réalisateur de Jin Roh : la Brigade des Loups. C'est à ce dernier que nous devons à la fois le script et le storyboard de ce film. Quant à la bande-son, nous retrouverons Kubuta Mine. Compositrice qui avait déjà travaillée sur Kaleiro Star, puis plus tard sur Kannazuki no Miko.