Un Metal Gear centré sur The Boss ?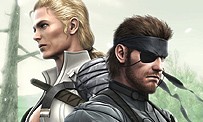 Enchainant les interviews à la Pax Prime de Seattle, Hideo Kojima s'est lâché et nous a avoué son souhait de réaliser un jour un Metal Gear avec The Boss en tête d'affiche !
Après Metal Gear Rising : Revengeance qui mettra Raiden en avant, Kojima Productions aurait-il en tête un nouveau spin-off mais avec cette fois The Boss comme personnage central ? C'est en tout cas ce que laisse sous entendre une récente déclaration d'Hideo Kojima : « Nous avons déjà parlé d'un jeu qui aurait pour personnage principal The Boss. C'est quelque chose que j'adorerais vraiment réaliser ». On a hâte de voir ce que ça pourrait donner, en espérant que ce projet se concrétisera !