Nippon Ichi Software dévoile l'édition collector d'Atelier Meruru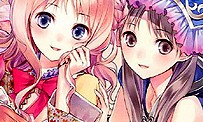 À environ un mois de sa sortie sur le sol américain, Nippon Ichi Software America vient dévoiler sur leur site de vente en ligne l'édition limitée de Atelier Meruru : The Apprentice of Arland.
Dernier épisode de l'arc Arland, Atelier Meruru débarquera le 22 mai prochain aux États-Unis dans une édition collector fraichement dévoilée. Cette dernière contiendra un artbook, une bande-son, ainsi qu'un t-shirt de taille L assez… spécial. Le tout étant proposé pour 64,99$, ce qui équivaut à environ 49€.
Si vous êtes amateurs d'import, vous pouvez commander cette édition dès à présent sur
le site
de
Nippon Ichi Software
. Étant donné que le titre ne sera pas traduit chez nous, si vous êtes intéressés il n'y a pas de raisons de se priver.