Sunrise annonce Mobile Suit Gundam AGE : Memory of Eden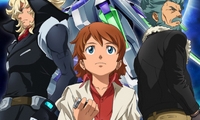 Malgré le flop de Gundam AGE, le studio Sunrise nous apprend la production d'une compilation intitulée Memory of Eden.
Mobile Suit Gundam AGE : Memory of Eden débutera cette année au Japon et fera office de compilation. Celle-ci reprendra l'intégralité des épisodes à partir de l'arc Asemu afin de se concentrer sur deux personnages : Asemu Asuno et Zeheart Galette. Des éclaircissements ne devraient pas tarder à être apportés.
Synopsis : Asemu Asuno est le fils de Emily & Flit Asuno (1er génération). Il prend les commandes temporaires du Gundam AGE-1 Normal de son père avant de recevoir le Gundam AGE-2 à l'âge de 17 ans pour protéger la colonie contre les Vagan. L'histoire nous entraîne dans le quotidien de Asemu & Zeheart Galette. Cependant Zeheart est en réalité un infiltré pour le compte des Vagan (colonie secrète).