Tales of Graces F : une vidéo de gameplay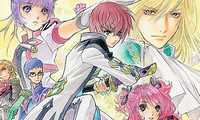 Disponible à partir du 31 août prochain en Europe, Tales of Graces F s'illustre au travers d'une nouvelle video de gameplay.
Bien que ce ne soit plus qu'une question de jours avant que nous puissions enfin tâter le très attendu Tales of Graces F, Namco Bandai a décidé de faire plaisir aux joueurs n'en pouvant plus d'attendre en diffusant cette nouvelle vidéo.
On vous rappel que Tales of Graces est le portage de l'épisode paru sur Nintendo Wii en 2009 au Japon, mais qui n'avait jamais quitté le territoire nippon. Il faut également noter que cet opus disposera de sous-titres français, contrairement à d'autres épisodes de la série tels que Tales of Abyss qui ne proposaient que d'une traduction anglaise.