Tales of Hearts bientôt en Europe?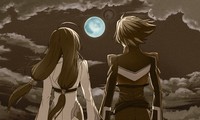 Disponible au Japon depuis courant 2008, Namco Bandai vient tout juste de déposer la marque Tales of Hearts en Europe. Alors, le présage d'une sortie sur notre continent?
Bien qu'assez incroyable, il semblerait que l'éditeur Namco-Bandai ait décidé de nous gratifier d'un opus supplémentaire de la série des Tales of. Ce qui est toujours bon à prendre étant donné que très peu d'épisodes nous parviennent. Mais le plus étonnant est sans doute l'épisode qui pourrait se voir porter sur notre continent, puisqu'il s'agirait de Tales of Hearts. Sorti en 2008 sur Nintendo DS !
Il ne reste donc plus qu'à espérer qu'il ne s'agisse pas d'une erreur en attendant une officialisation.