The World Ends With You bientôt de retour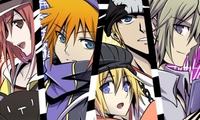 On pouvait s'en douter, la présence des protagonistes de The World Ends With You dans le dernier Kingdom Hearts n'était pas sans raison. Elle avait évidemment pour objectif de préparer le terrain en prévision de l'arrivée d'un nouvel épisode, ce qui se révèle être le cas.
Un mystérieux site vient en effet d'ouvrir
à l'adresse suivante
, et laisse clairement supposer l'annonce prochaine d'une suite. Parmi les différents indices, ce qui retient notre attention c'est l'ambiance qui ressort de l'artwork présent derrière le compte-à-rebours, la musique qui n'est pas sans nous rappeler celle du premier épisode, mais surtout la mention du duo Tetsuya Nomura / Gen Kobayashi présent en bas de page. Enfin bref, le mystère sera levé le lundi 27 août.