Toki to Towa bientôt confirmé en Occident ?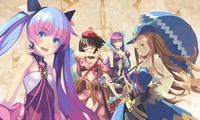 Malgré des ventes assez décevantes au Japon, un récent dépôt de nom réalisé par Namco Bandai laisse espérer l'arrivée de Toki to Towa en Europe et aux USA.
En effet, depuis sa sortie en octobre dernier, Toki to Towa ne s'est écoulé qu'à un peu plus de 40 000 exemplaires, ce qui est excessivement peu ! Mais malgré cela, Namco Bandai semble bien décidé à tenter le coup et à sortir ce jeu de rôle chez nous puisqu'ils viennent de déposer la marque « Time and Eternity », qui est la traduction directe du titre original. Ceci est évidemment à prendre avec des pincettes, mais c'est tout de même un bon présage pour les quelques curieux qui souhaiteraient découvrir ce jeu à l'animation atypique.