Toki to Towa : de nouvelles images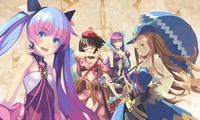 Toujours aussi magnifique visuellement, Toki to Towa s'illustre à nouveau au travers de cette galerie d'images.
Malgré le temps qui passe, voici un jeu qui suscite toujours autant la curiosité ! Véritable ovni qui se perd entre le jeux vidéo et l'animation japonaise, le RPG d'imageepoch sera-t-il une sorte d'anime interactif, ou bien aura-t-il un gameplay n'ayant rien à envier aux autres jeux du genre? C'est la question qu'on peut se poser, car pour le moment pas la moindre vidéo de gameplay n'a encore été dévoilée…
Quoi qu'il en soit, cette nouvelle série d'images nous permet de découvrir Enda, Reijo et Wedi, les trois amies de l'héroïne, ainsi qu'un aperçu de l'interface de combats. Notamment la présence d'une boussole qui laissent espérer un système d'exploration dynamique. Toki to Towa sortira cette année au Japon, exclusivement sur PlayStation 3.