Un Hybrid Pack Macross : Do You Remember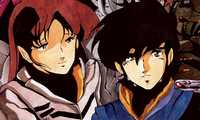 Les mordus de la série seront sans doute aux anges, Macross aura également droit à son Hybrid Pack !
A coté des jeux vidéos qu'on pourrait qualifier de "classiques" et des autres produits que propose l'éditeur, Namco-Bandai semble avoir trouvé un nouveau filon avec ses Hybrid Packs. En tout cas leurs annonces s'enchainent à une vitesse folle.
Après
hack//Versus
,
Eureka Seven AO
et
Lagrange : The Flower of Rin-ne
, un Hybrid Pack dédié à la série Macross vient d'être annoncé. Ce pack comprendra à la fois le film d'animation
Macross : Do You Remember Love?
remasterisé en HD, ainsi qu'un jeu mais dont la qualité semble plus que discutable… Mais ce n'est pas tout, un code permettant de télécharger
Macross : Digital Mission Vf-x
(sorti sur Playstation en 1997)
sera également offert pour toutes précommandes.