Un nouveau Tales of dévoilé prochainement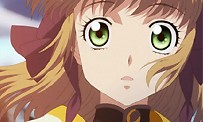 Toujours aussi en forme, la série des Tales of accueillera un nouveau venu le mois prochain.
C'est dans les pages du dernier numéro du Jump que nous apprenons qu'un nouveau Tales of sera dévoilé très prochainement : lors du Tales of Festival se tenant le 2 et 3 juin prochain.
Aucunes indices concernant le support, mais vu que Tales of Xillia est sorti il y a maintenant un bon moment, il y a fort à parier qu'il s'agira d'un épisode destiné aux consoles de salon. Quant à nous, nous attendons toujours une date de sortie précise pour Tales of Graces F. Il est attendu vaguement durant l'été, mais sans plus de précisions malheureusement.