Une date et un teaser pour le film Detective Conan : The Eleventh Striker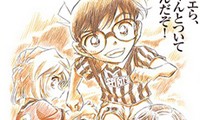 Plutôt discret jusqu'à présent, les fans seront ravit d'apprendre que Detective Conan : The Eleventh Striker vient finalement de se voir daté, mais également illustrer au travers d'un tout nouveau trailer.
C'est le
site officiel
qui s'est enfin décidé à lâcher le morceau : le seizième film tiré de la célèbre saga
Detective Conan
paraitra dès le
14 avril 2012
dans toutes les bonnes salles obscures nippones. Et pour couronner le tout, un nouveau teaser vient également d'être mit en ligne. Cette courte vidéo nous laissant entre-apercevoir ce fameux terroriste, prêt à faire exploser le stade de foot accueillant la rencontre opposant Tokyo à Osaka.
« Un poseur de bombe défie l'agence du Detective Mori de l'arrêter avant qu'il ne fasse exploser le stade de foot rempli de monde le jour de la rencontre entre l'équipe de Tokyo VS Osaka.
Le seul indice donné par ce mystérieux terroriste : « Aoi shonen to aoi shimauma, ue kara no ame » (Jeune garçon bleu et zèbre bleu, la pluie vient d'en haut) »