Une réédition pour Metal Gear Solid 4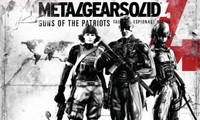 De façon a fêter dignement les 25 ans de la saga Metal Gear, Konami a décidé de rééditer Metal Gear Solid 4 – Guns of the Patriots dans une édition spéciale agrémentée de divers goodies.
Cette édition disponible à partir du 29 novembre comprendra un magnifique artbook, un poster recto-verso, ainsi que le jeu et toutes ses mises-à-jour. Comme vous pouvez le remarquer, cette réédition bénéficiera également d'une nouvelle jaquette sur laquelle se côtoient Solid Snake, Meryl et Raiden. Puis pour ceux qui l'ignoreraient, Metal Gear Solid 4 bénéficie depuis cet été de son lot de trophées. Donc même si vous en avez déjà fait et refait le jeu depuis sa sortie, cela peut-être une bonne raison de rejoindre ce vieux Old Snake une dernière fois !