Une suite d'El Shaddai en préparation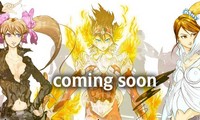 La fin le laissait présager, et Ignition Entertainment vient de le confirmer. El Shaddai : Ascension of the Metatron aura droit à une suite !
Comme prévu, le studio
Ignition Entertainment
vient d'officialiser le développement d'un nouveau projet ayant un lien avec l'univers d'
El Shaddai
. Portant le nom de
"El Shaddai New Project 2012"
, il n'y a pas grand chose à se mettre sous la dent hormis
ce site teaser
tout juste mit en ligne.
Ce site nous pose une question bien étrange : qui est l'ultime ange de Dieu que l'histoire d'El Shaddai mentionnait? À cela vient s'ajouter une artwork regroupant différents personnages, dont éventuellement le héros de ce second opus? Une question dont le temps nous apportera la réponse…