Beyond the Labyrinth s'illustre via un premier teaser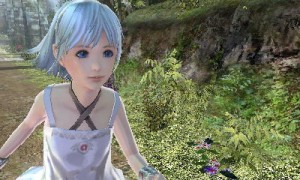 Annoncé en mai dernier via une première série d'images pour le moins alléchantes,
Beyond the Labyrinth
se montre enfin en mouvements dans cette première bande-annonce, dans laquelle le titre semble pousser toujours autant les capacités de la console. On en vient presque à se demander si nous sommes bien sur
3DS
.
Développé dans les locaux du réputé studio Tri-Ace, ce Donjon/RPG aux airs d'un ICO reste toujours pour le moins mystérieux. Hormis ces quelques secondes dévoilant les premières scènes du jeu, nous n'apprenons donc pas grand-chose. Il faudra patienter jusqu'au 15 septembre prochain, et la tenue du Tokyo Game Show avant d'avoir droit à une première fournée d'infos croustillantes, le titre étant prévu comme étant jouable.