The Demon Slayer sur l'eShop de la 3DS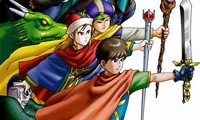 Megami Tensei Gaiden : Last Bible, également souvent appelé Revelations : The Demon Slayer, fera très bientôt son comeback après treize années de silence !
Décidément très en forme,
Ghostlight
vient de faire de nouveaux heureux. Après avoir décidé de sortir chez nous la série des
Devil Survivor
, de l'autre coté du globe ce sont les Japonais qui sont aux anges avec l'annonce de
Megami Tensei Gaiden : Last Bible
sur l'
eShop
de la
3DS
.
L'histoire nous propose d'incarner Eru, un jeune garçon à la recherche d'une capacité appelée Gaïa. Il sera par la suite rejoint par Uranus, Kishu, et bien d'autres alliés aux pouvoirs magiques qui les aideront à résoudre le mystère de Gaïa.
D'ores et déjà attendu dans le courant de la semaine prochaine, cet Action/RPG paru pour la première fois sur GameBoy en 1992 sera porté dans sa version GBC, et proposé pour la modique somme de 600 yens (soit environ 5,60€). Le titre n'est pour le moment pas prévu en dehors du Japon.