Des cartes Saint Seiya offertes par Kurokawa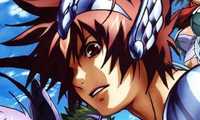 Afin de fêter la fin de Saint Seiya – The Lost Canvas, Kurokawa nous propose un cadeau assez sympathique.
Vous le savez sans doute, la fin de
Saint Seiya – The Lost Canvas
est toute proche. Et à cette occasion, les éditions
Kurokawa
vous offriront un magnifique jeu de cartes à l'effigie de vos chevaliers préférés. L'éditeur ne laissant rien au hasard, toutes les figures habituelles (valets, dames, rois et jokers) seront remplacés par des personnages emblématique de la série, sans oublier les cartes à chiffres. Un cadeau assez original qui sera surement collector au vue du travail réalisé sur ce jeu.
Et pour bénéficier de cette offre, il suffira tout simplement d'acheter deux mangas du catalogue Kurokawa dans un des magasins participants.