La Neo Geo X enfin officialisée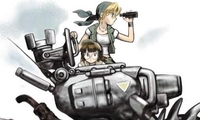 Cela faisait plusieurs mois que la rumeur circulait sur le net, mais c'est désormais officiel : la légendaire Neo Geo sera bientôt de retour !
Proposé dans le cadre du vingtième anniversaire de la rolls royce des consoles portables, la Neo Geo X nous proposera pour 199$ une série de vingt jeux cultes déjà pré-installés. De quoi pouvoir se refaire un petit Art of Fighting II, King of Fighter 95 ou un Last Resort dans le métro ou chez le dentiste. Mais pas seulement ! En effet, le package comprendra également un Joystick Neo Geo ainsi qu'un branchement HDMI afin de pouvoir en profiter chez soi devant sa télé.
Voici la liste des vingt jeux proposés :
REAL BOUT – FATAL FURY SPECIAL