Le collector de Toki to Towa s'illustre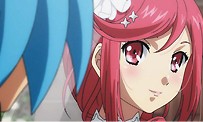 C'est dans les pages du dernier Famitsu que le collector de Toki to Towa en aura profité pour se montrer.
Le studio Imageepoch vient d'égayer la journée des collectionneurs amateurs de jeux de rôle japonais en dévoilant le contenu du collector de Toki to Towa. Ce dernier contiendra un drama, un artbook de 48 pages, un code à usage unique permettant de télécharger onze thèmes sur le Playstation Store, ainsi qu'une très jolie boite. Afin d'acquérir ce saint-graal il vous faudra débourser 9 980 yens, ce qui équivaut à environ 100€. Sortie prévue le 11 octobre prochain au pays du soleil levant.