Le studio Psygnonis met la clé sous la porte…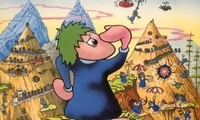 Sony va mal, très mal financièrement, et la série noire continue avec l'annonce ce matin de la fermeture d'un autre studio appartenant à l'éditeur.
Décidément, les fermetures s'enchainent chez Sony. Après Zipper Interactive en mars dernier, c'est aujourd'hui au tour de Sony Liverpool de mettre la clé sous la porte. Je vous rappel que derrière ce nom se cache le studio Psygnonis, un vieux-de-la-vieille a qui nous devons des titres mythiques tels que le cultissime Lemmings, Destruction Derby, ou encore l'excellent Shadow of the Beast. Quoi qu'il en soit, ces dernières années c'était plutôt du Wipeout en veux-tu en voilà, et les ventes n'ont évidemment pas suivies. C'est une certitude, le destin du studio aurait pu être tout autre si leur talent n'avait pas été bridé.
On espère cependant qu'il s'agit plus d'un démantèlement avec un transfert des employés vers d'autres studios internes, mais pour le moment c'est le flou total à ce sujet. On leur souhaite bon courage pour la suite des évènements.