L'édition couleur de Highschool of the Dead bientôt de retour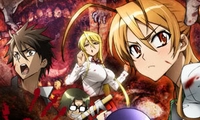 Alors que Highschool of the Dead redémarrera prochainement au Japon, pendant ce temps le tome 5 de l'édition couleur arrivera enfin chez Pika.
Près d'un an après la sortie en France du quatrième tome couleur de Highschool of the Dead, les éditions Pika nous apprennent que le tome 5 débarquera le 29 mai dans nos librairies favorites. Quant à l'édition normale, elle compte actuellement un total de sept volumes.
Synopsis : Le monde est contaminé par une maladie mortelle qui transforme les
humains en zombies. Au Japon, de nombreux étudiants du lycée Fujimi,
ainsi que l'infirmière scolaire, se sont réunis afin de tout faire pour
survivre à cette apocalypse. L'histoire suit Takashi Komuro, l'un des
étudiants à avoir survécu à la première attaque.