Kingdom of Amalur : le second DLC en détails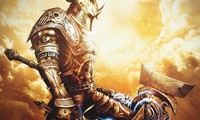 Les Royaumes d'Amalur dévoile sa deuxième extension plus en détails.
Sortie chez nous le 9 février dernier sur PlayStation 3, Xbox 360 et PC, le RPG de Big Huge Games – avec Ken Rolston (Lead Designer de The Elder Scrolls III : Morrowind et The Elder Scrolls IV : Oblivion), Robert Anthony Salvatore (écrivain passé maitre dans l'heroic fantasy) et Todd McFarlane (le papa de Spawn) aux commandes – a su se faire une place parmi les ténors du genre.
Et cet excellent accueil critique, mais aussi commercial lui a valu la mise en ligne d'un premier contenu téléchargeable, baptisé « La Légende de Kel le Mort », le 20 mars dernier sur PC et consoles HD, et facturé 800 points MS ou 9,99€ selon la plate-forme. Aujourd'hui, afin de prolonger à nouveau l'expérience de jeu, un second DLC, nommé « Les Dents de Naros » paraitra le 17 avril prochain sur Xbox 360 (800 points MS), PlayStation 3 et Steam (9,99 €).
A ce tarif-là, vous aurez l'occasion d'explorer Idylla, une ville flottante dans le ciel au-dessus des Dents de Naros, rassemblant une vingtaine de quêtes annexes, une pléthore de donjons (cinq au total) et une race inédite (Kollossae). Aussi, vous aurez droit à trois nouveaux Caprices du Destin, neuf nouvelles armures, six nouveaux boucliers et dix-huit nouvelles armes uniques.