Marvel vs. Capcom 2 débarque sur Iphone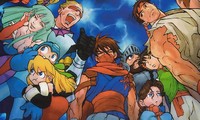 Marvel vs. Capcom 2 s'invite dès le 25 avril sur Iphone.
Malgré la prise en main plutôt mal adaptée, les jeux de baston semble avoir la cote sur Iphone. C'est en tout cas ce qu'on peut en déduire puisque après Street Fighter IV et The King of Fighters, c'est maintenant au tour de Marvel vs. Capcom 2 de rejoindre le catalogue de l'AppStore.
Attendu dès mercredi prochain, ce titre mythique signé Capcom proposera évidemment son casting au grand complet. Autrement dit, pas moins de 56 personnages. Il reste cependant à voir si la jouabilité au Virtua Pad ne gâchera pas tout. L'idée de pouvoir tâter la bête n'importe où et n'importe quand est en tout cas plutôt séduisante !