Super Robot Taisen UX annoncé sur 3DS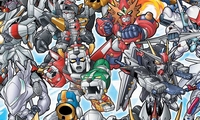 C'est dans le Famitsu que cette semaine que vient d'être dévoilé le prochain Robot Taisen : Super Robot Taisen UX.
Cet épisode exclusif à la Nintendo 3DS débarquera le 14 mars 2013 au Japon, et proposera pour la première fois de contrôler des méchas issu de Kishin Houkou Demonbane, Fafner in the Azure : Heaven and Earth, The Wings of Rean, Cyber Troopers Virtual-On series, Mobile Suit Gundam 00 : Awakening of the Trailblazer, SD Gundam Sangokushi : Brave Battle Warriors, Mazinkaiser SKL, ou encore de Heroman. Bien entendu d'anciennes licences seront invitées aux festivités, telles que Macross Frontier : Sayonara no Tsubasa et Macross Frontier : Sayonara no Tsubasa, mais également bien d'autres !
Il faut noter également qu'un bundle spécial avec une 3DS est prévu au Japon, que les voix lors des scènes d'attaques ont été confirmées, que les animations seront de meilleurs qualités que dans les opus sur Nintendo DS, et que les divers contenus téléchargeables dont les cartes supplémentaires et le mini-jeu Tsume Suparobo seront offert avec les premières éditions du jeu.