Une semaine de retard pour Ken's Rage 2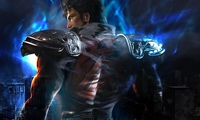 Attendu initialement pour le 31 janvier sur le vieux continent, First of the North Star : Ken's Rage 2 vient de subir un report de dernière minute.
Mais rassurez-vous, il n'y a pas d'inquiétude à avoir car ce report n'est que de l'ordre de quelques jours. Si tout se passe bien d'ici là, il sera possible de faire gicler le sang en compagnie de l'ami Ken dès le 8 février prochain sur Playstation 3 et Xbox 360, et un jour plus tôt si vous optez pour la version Wii U. Et justement puisqu'on parle d'elle, sachez que le titre ne sera disponible qu'en téléchargement. Oui, une décision très étrange étant donné que la machine de Nintendo dispose d'un disque dur assez restreint, ce qui devrait sans doute freiner plus d'un joueur.