Un nouveau trailer pour Dragon Ball Z : Battle of Gods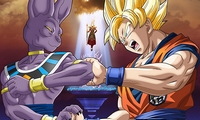 A un peu plus d'un mois
de la sortie au Japon de Dragon Ball Z : Battle of Gods, Toei Animation
fait monter la pression en diffusant un second trailer mettant en scène
l'ami Goku face au terrible Bils !
Cette courte bande-annonce est l'occasion d'admirer quelques extraits
tirés du film, mais également de teaser une nouvelle
transformation dont bénéficiera Goku : le mode Super Saiyan God ! Cette
nouvelle forme sera supérieure à celle de Super Saiyan 3 et sera donc
une sorte d'alternative officielle à la transformation en Super Saiyan 4. Car je
pense ne pas devoir vous rappeler que la transformation en Super Saiyan
4 est issue de Dragon Ball GT, qui est une série produite par Toei
Animation, et non pas par le célèbre Akira Toriyama ! Quoi qu'il en soit,
le mode de
transformation permettant d'accéder à cette forme semble être à peu près la
même que pour
devenir Super Saiyan 4 : on ne sait comment mais Sangoku se métamorphose d'abord en gorille géant,
puis
ensuite il accède à sa toute nouvelle forme. Mais évidemment, ce
trailer ne nous montre pas cette fameuse transformation en Saiyan God ! Oh les salauds…
Dragon Ball Z : Battle of Gods sortira le 30 mars au Japon, et on espère le voir arriver cet été en France.