Une jaquette et un trailer de lancement pour SolatoRobo : Red the Hunter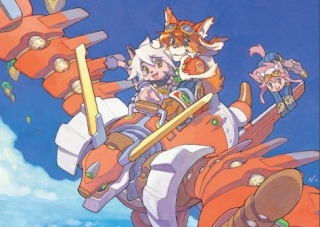 A quelques jours de la sortie européenne d'une des dernières perle que comptera la
NDS
,
SolatoRobo : Red the Hunter
s'illustre au travers d'une nouvelle bande-annonce, et dévoile également sa jaquette.
Développé par le studio CyberConnect2, nous découvrirons dans ce RPG atypique un monde autrefois peuplé d'humains, puis transformés en animaux. Nous incarnerons et découvrirons la destinée de Red Savarin, un jeune mercenaire de 17 ans accompagné de son mécha et de sa soeur. Au cours de notre voyage, nous ferons la connaissance d'Eth, une chatte qui semble cacher un mystérieux secret, et nous devrons contrer les projets diaboliques d'un être malfaisant projetant de contrôler le monde.
En plus de quelques phases de gameplay, ce trailer nous permet d'en apprendre un peu plus sur les personnages principaux qui nous accompagneront dans notre quête, et sur l'univers dans lequel les évènements se dérouleront. SolatoRobo : Red the Hunter débarquera dès le 1er juillet 2011, dans une version intégralement traduite en français. Donc pas de raisons de passer à coté, non mais !